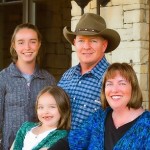 Tulsa Republican Paul Bowman, Jr. will seek the GOP nomination in the House district now represented by Rep. Fred Jordan.  The district covers Bixby, Jenks and south Tulsa.
"South Tulsa County is an area defined by strong families, vibrant churches, thriving businesses, and exceptional schools.  All of us who live here are proud to call it home.  I want to go to the state Capitol to stand up for the conservative values that have helped build and shape the wonderful community we have today," Bowman said.
"From working for lower taxes and reduced spending, to standing up for small business, cutting government bureaucracy and red tape, pushing back against federal government overreach like ObamaCare and protecting conservative values like the right to life and Second Amendment rights, I will be a strong conservative Representative for our area," Bowman said.
Bowman, a Marine, served in a front line combat unit in Operation Desert Storm.  He was among the first troops to enter Kuwait and engage the forces of Sadam Hussein.  His service was recognized with the award of 10 separate medals and commendations.
He returned to the United States and accepted a position as an officer with the Plano, Texas Police Department.  He served eight years and was again recognized numerous times for brave and honorable service in the line of duty.
Bowman said he believes our country owes no greater debt of gratitude than to those who sacrificed for America on the field of battle. That's why Paul founded the Bowman Lodge when he moved back to his native state of Oklahoma.
The Lodge is a charity dedicated to helping wounded/disabled vets rediscover the confidence and camaraderie that the great outdoors provides. Vets from across the country are flown to the Lodge just north of Lake Eufaula for recreational and rehabilitative activities, all free of charge with the funds provided by the Talley Bowman Foundation.
As a Director/COO of the Lodge and adjacent ranch, Bowman oversees the budget of the Lodge, the Ranch, and the Foundation with hundreds of guests and full time and seasonal employees cycling through annually. The Lodge's work has been honored across the country, including by both the Oklahoma State House of Representatives and the state Senate.
Bowman graduated from the University of Oklahoma with a degree in Anthropology and Minor in Asian Studies.   He has worked professionally as an Archeological Technician for the U.S. Forest Service in the Modoc National Forest (CA) and the Bureau of Reclamation in Oklahoma City.
He and his wife, Britani, are childhood sweethearts who grew up in Oklahoma City.  Today they live in south Tulsa/Jenks with their two daughters, Lauren Elizabeth, 13, and Rachel Jewel, 6.