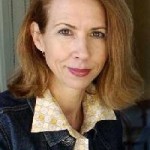 Jill Simpson is departing as the Director of the Oklahoma Film and Music Office, a position she has held for 10 years, it was announced Tuesday.  Her final day in the post will be August 1.
The OK Film & Music Office reported Simpson's departure was to accept a position in academics.
"We can likely all agree that it has been a challenging and sometimes tumultuous decade, but it has also been a period of significant progress and growth for our Oklahoma industries. The progress has been hard won for all of us," she said Tuesday in a prepared statement.  "I am very proud of what we have accomplished together in further developing our incentives program and the work that it generates. While comparatively small, we now have a rebate that is very popular and well-utilized by the industry. It is proving to be a benefit to not only the film industry, but our musical talent as well. There is much work still to be done, but with the recent ten-year rebate extension, there is now a strong foundation on which to build."
"Simply put, The Actor Factory would not exist if not for the efforts of Jill Simpson," said a statement on The Actor Factory's Facebook page. "We appreciate everything she has done for the Oklahoma film industry and for the resumes of Oklahoma actors and crew, and we know she is the reason our state's film incentives last through 2024. We wish her well in her new endeavor but we want to express our appreciation for the fine service she performed over the past 10 years."
Chris Freihofer, Director of The Actor Factory and owner of Freihofer Casting said "We all owe our film industry careers in Oklahoma over the past 10 years to the efforts of Jill and her staff.  It is no accident Freihofer Casting has been in business for 10 years and The Actor Factory for 5.  We are here because the industry is here and the industry is here because of Jill's work.  We owe a big debt of gratitude to her."
Oklahoma native Tava Maloy Sofsky will take over the position of Director of the Oklahoma Film & Music Office.
A producer with a diverse film and commercial background, Sofsky has worked with many notable filmmakers and executives including: Michelangelo Antonioni, John Badham, Antonio Banderas, Martin Campbell, Doug Claybourne, Bill Cosby, Chris Columbus, Francis Ford Coppola, Woody Harrelson, Anthony Hopkins, Laurie McDonald, Walter Parkes, Wesley Snipes, Steven Spielberg, Oliver Stone and Robin Williams.  Among her credits are: The Mask of Zorro, The Fast and the Furious and Beyond Borders.  She also brings with her valuable connections to the music industry.  Her brother, Zac Maloy, is an award-winning songwriter in Nashville.
"Tava brings a wealth of knowledge and expertise to the agency," said Deby Snodgrass, Cabinet Secretary and Executive Director of the Oklahoma Tourism and Recreation Department. "She has the experience needed to carry on the work of Jill Simpson who, over the course of her ten-year tenure, has grown the film and music industries into viable economic generators for the state."
Oklahoma's film industry achieved an 800% growth rate over an eight year period from FY05 to FY13.  In fiscal year 2013, it contributed $35.15 million in direct dollars to Oklahoma's economy, which resulted in an economic impact of $88.9 million.
Commenting on her new role, Sofsky stated, "Being an Oklahoma native, in addition to many years of working in the film industry, has brought me full circle.  It will be an honor to join to Oklahoma Film & Music Office and it is my privilege to carry the baton from Jill Simpson."
Sofsky assumes her role as Director of the Oklahoma Film & Music Office August 4.