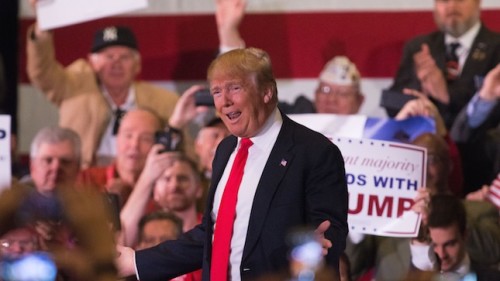 By Mike McCarville
The revolution in Republican politics is underway.
The leader is not the choice of "grassroots" Republicans, Ted Cruz.
He's not the choice of the "establishment" either, Marco Rubio.
He is, instead, the unlikely-est of all, Donald Trump.
And it is a revolution, make no mistake. Thousands of voters in primary and caucus states have validated what is happening.
Others are startled by Trump's ascension. The Associated Press interviewed one man, a voter, and reported the conversation: "(he) is part of a legion of skeptical Republican voters across the United States coming to grips with the prospect that Trump, a candidate whose appeal they simply can't understand, may end up being their party's best chance for retaking the White House. The real estate mogul has scored three commanding primary victories in a row, including Tuesday in Nevada, and enters next week's delegate-rich Super Tuesday elections in strong position."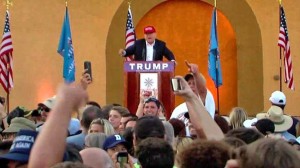 Rolling Stone profiled the quixotic Trump, in part writing, "At the Verizon Giganto-Center in Manchester the night before the New Hampshire primary, Trump bounds onstage to raucous applause and the booming riffs of the Lennon-McCartney anthem 'Revolution.' The song is, hilariously, a cautionary tale about the perils of false prophets peddling mindless revolts, but Trump floats in on its grooves like it means the opposite. When you win as much as he does, who the hell cares what anything means?"
How did we get here, where thousands flock to a caustic political neophyte and thousands more can't understand his appeal, a man sweeping primary and caucus states?
Democrat mismanagement and two terms of Barack Obama.
Republican intransigence with no ability, apparently, to see and correct shortcomings.
And underneath it all, anger. Anger at Washington, anger at government, anger at "them."
Trump's bellicose remarks, tough and sometimes crude comments, his attitude, is ringing a bell with those who are fed up and (from a famous movie) aren't going to take it anymore.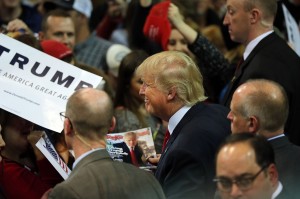 And here's what many, even some political pros, do not understand: It makes no difference where Trump stands, precisely, on most issues. It is his hammer-down persona that wins support.
He's not gonna take it any more. He's gonna kick some butt in DC. He's gonna punch someone. He's gonna build a wall.
This is why attacks on Trump aren't working. They just give him the opportunity to be even tougher, more belligerent. Attack ads that once were valid just don't work with Trump. The Club For Growth tv ad campaign against Trump is, my opinion, a waste of money. The shout he's been oft-married carries no weight, at least thus far. Noting he's been bankrupt falls on deaf ears; Good Lord, he's got so many millions he's funding his own campaign! And lots of voters like that as well.
The reality we appear to be facing is that we have as the GOP front-runner a real "Teflon Don."