By Jason Doyle Oden & Mike McCarville
The reaction is mixed to Governor Fallin's proposal to consider a special legislative session to use $140.8 million for teacher pay raises. The money was generated by the revenue failure cuts of seven percent. After all the revenue was counted for the previous fiscal year, the state agencies only needed to cut budgets by 4.4 percent, leaving the money on the table.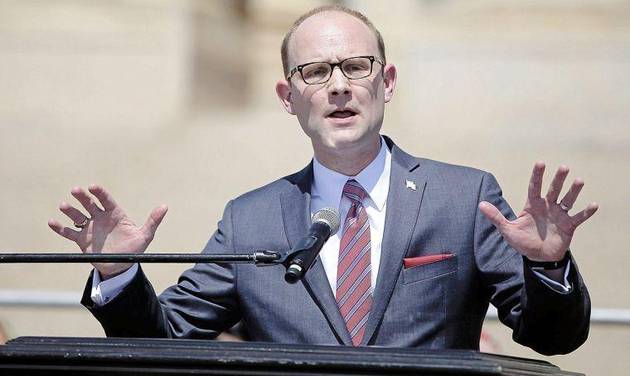 House Democratic Leader Scott Inman believes it is Republican gamesmanship, not a true desire to raise teacher salaries.
"Once again Mary Fallin and the Republican majority have decided to play games with the lives and salaries of Oklahoma teachers, by calling for a special session just three months before the voters go to the polls to vote on SQ 779, the education sales tax proposal," said Inman.
Senator Minority Leader John Sparks feels the proposed Special Session is an election year maneuver.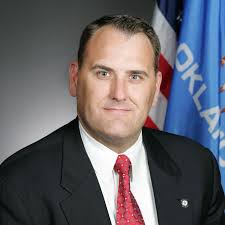 "Once again, Governor Fallin and the Republican majority in the legislature are showing how bad they are at public finance and how good they are at election year political pandering – because that is all this proposal for a special session on teacher pay raises is.
"I've said it before and I'll say it again: a special session to figure out what to do with the $140.8 million in 'extra money' the Governor's finance team found back in June is unlawful and unnecessary. We don't need to spend taxpayer dollars we don't have to pass a new law to determine how and where this money should be spent. We passed a budget in May of 2015 which directed how this money was to be spent. The Governor's finance team needs to simply re-allocate this money back to the agencies to which it was originally appropriated.
"In addition, I find the timing of this call for special session curious. To suddenly want to come to the table to pass a teacher pay raise plan in the midst of a heated campaign season where educators and parents are not only concerned but motivated and active wreaks of political pandering.
"Finally, the idea that using one-time 'extra money' to fund an ongoing expense like teacher salaries is fiscally unsound. To use one time money for a recurring budget item is short sighted at best and sets our teachers up for serious disappointment in the future when there isn't more one-time money to keep funding their new, higher salaries.
"We need to address the issue of teacher pay and our ongoing teacher shortage. But, this isn't the way to do it. If the Republicans in the legislature really cared about teachers, they would have passed a pay raise bill during the regular session. But to spend $30,000 a week for a special session to address this issue now using one-time funds is unlawful, unnecessary, inappropriate, and pandering fiscal mismanagement."
Republican Senator David Holt has been a proponent for teacher raises. He sees the Governor's plan as a positive move in the right direction.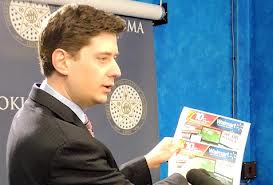 "Low teacher pay is the number one challenge right now to the future we want for Oklahoma.  There is a well-intended proposal on the table, but due to the effects it will have on Oklahoma families and on city services, I believe there has to be a better approach.   I was very disappointed that the Legislature did not propose an alternative this past regular session.  The outcome of having surplus funds is giving us a reason to revisit the issue, and potentially provides a financial foundation for a teacher pay package.  I strongly support the Governor's proposal to go into special session.   It's our duty to address this issue and it's our duty to get it right," Holt told The McCarville Report.
However, not all Republicans are on board with the idea of a special session. Rep. Paul Wesselhoft shared his thoughts on Facebook.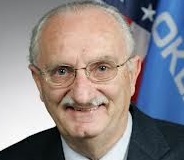 "Gov. Mary Fallin wants to call a Special Session in order to spend 140 million on giving every teacher a pay raise, instead of allowing the 140 million to be distributed equally among all state workers.
"I am strongly against a Special Session. I want this money to be fairly distributed among all state workers including teachers. Teachers would get over 30 million.
"State workers have not had a pay raise in many years.
"Please contact your Representative or Senator and tell them no to a Special Session," wrote Wesselhoft.
Dave Bond, CEO of OCPA Impact, said, "Oklahoma lawmakers should absolutely utilize available taxpayer dollars for a long-overdue pay raise for public school teachers statewide. Paired with modest reforms of TSET and of taxpayer-funded subsidies to foreign and out-of-state wind companies, lawmakers could provide a full $5,000 pay raise for every classroom teacher in the state.
"This would allow lawmakers to protect their constituents from feeling as though, when they go to the polls in November, that their only option for increasing teacher salaries and keeping good teachers in the classroom is to raise their own sales taxes to the highest of any state in the nation."
Oklahoma Education Association President Alicia Priest feels state leaders should have acted sooner to provide teacher raises and would rather see the voters approve State Question 779 to fund a teacher raise.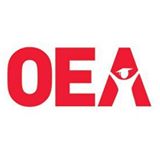 "The Oklahoma State Legislature had a four-month legislative session this year in which they could have raised teacher pay – in addition to eight previous years – but time and again they have failed to do so. There is no reason to believe that they could now come to an agreement if Oklahoma taxpayers paid to bring them back to the Capitol for a special session," said Priest.
"In contrast, State Question 779 is a permanent, dedicated revenue stream which will not only fund significant teacher pay raises but also provide money for pre-k, career tech and college affordability. It's a shame that our vital state agencies, which provide our education, health services and public safety, were unnecessarily stripped of $140 million in funding this year. We urge the Governor to put that money back into students' classrooms as soon as possible."
The Oklahoma Pubic Employees Association issued this statement:
A special legislative session to redistribute  $140.8 million cut from state agencies to fund teacher pay raises does little to provide long-term solutions to education problems and pits teachers and state employees against each other, according to the Oklahoma Public Employees Association (OPEA).
"The Governor's proposal for a costly special legislative session to fund a teacher pay raise using money previously cut from state agencies further undermines state agencies' ability to provide services," said OPEA Executive Director Sterling Zearley. "The$140 million was taken from state agencies and it needs go back to state agencies so they can continue to serve. To do otherwise is a political stunt that doesn't fix Oklahoma's education problems."
OPEA believes education and services are both important to Oklahoma's future and each deserves permanent funding solutions. The Governor's pay plan uses "one time money" to fund recurring expenses with no guarantee that money necessary for the raise would be available in fiscal year 2018.
"If a special session is called, it should be to find permanent solutions to Oklahoma's revenue problems, not to give a pay raise out of money we have now but may not have in the future," Zearley said. "Earlier this year, many Oklahomans asked our leaders to find new  revenue sources so we can stop diluting services and fund our schools. But during the last session, only a few revenue measures were even considered."
"State employees understand the need for teacher pays raises but they also know that some state employees' pay has not increased in eight years. Most state employees' total compensation package is 20 percent below comparable private sector jobs," he said. "It is irresponsible to give teacher pay raises while many state agencies still face service and staff cuts and office closures."
"Our children's education also depends on the safety net services provided by many state agencies whose budgets were slashed over the past few years. Teachers  understand that students' learning suffers when their families are struggling with substance abuse or mental health issues, when they don't have adequate nutrition or they live in unsafe neighborhoods, " he said. "Our state needs a strong education system to help improve our quality of life too. Education and state services complement each other but the governor's proposal creates competition between educators and state employees for this money and that is just wrong."
"State agencies and their employees absorbed a large portion of budget cuts due to revenue shortfalls. Not distributing the funds back to state agencies is a slap in the faces of those who work in Oklahoma's prisons, Veterans' Centers, DHS, DMHSAS and other work sites. Our leaders need to stop the political games and find long-term solutions to funding both education and services," Zearley said
The Oklahoma Public Employees Association is the state's largest state employee and retiree association and advocates on their behalf and the services they provide. Its mission is to improve state employment.
The McCarville Report has made several inquiries of legislative members to their response to the proposed special session. As more answers are received, we'll update the story here.