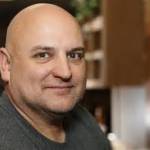 Mike McCarville
Sources within the Tea Party movement in Oklahoma City report today that abrasive and controversial Ron Paul campaign state coordinator Al Gerhart has been removed from that post.
The sources say Gerhart was removed when slates of Republican districtr convention delegates he personally chose abandoned him because of his roughshod treatment of friend and foe alike, especially longtime GOP officials and workers.
It's been no secret that many of Paul's supporters had lost confidence in Gerhart and distanced themselves from him as much as they could.
Calls to the national Ron Paul campaign office to confirm Gerhart's removal were not returned.  Several Paul supporters, however, indicated there was an email today announcing his departure.
Gerhart in recent months had issued a number of hard-core emails telling would-be Paul delegates they had to be vetted by the national campaign (him) and that action reportedly infuriated many in the movement. So many, in fact, that an ad hoc coalition of Paul supporters not in Gerhart's Sooner Tea Party went to work and elected their delegates.
Gerhart has used his Sooner Tea Party/Ron Paul campaign positions to savage Republicans he describes as "RINOs," or Republicans In Name Only. He has repeatedly criticized elected Republicans, causing some who were inclined to support Paul to support other candidates.
Gerhart is a recent Republican; prior to his involvement in the Sooner Tea Party, he was an Independent who had not been active in politics. He is a carpenter by trade.